Wednesday Nights Kids Quest @ 6
Kids Quest is a NEW exciting approach to studying God's Word. It's based on 2 Timothy 2:22, which tells us to "Flee the evil desires of youth and pursue righteousness, faith, love and peace along with those who call on the Lord out of a pure heart."

Kids Quest is designed to help children 3yrs-6th grade pursue the things of God alongside other kids who are also on the adventure of learning to follow Christ! Children will be in age specific small groups that will take them deeper in their faith. Kids Quest will focus on a different theme each month with one corresponding memory verse for the entire month. Children will learn Bible stories through multi-sensory, hands on activities, and worship music.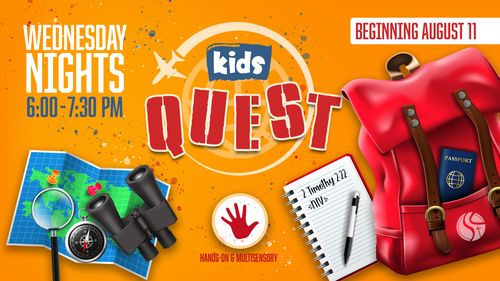 Nursery will be provided for children birth through 2 years old. You will check in at the preschool desk.
Kids 3 yrs-6th grade will be dropped off in the Worship Center
3 yr olds-5 yr olds will be picked up on the Preschool Hall
Kindergarten-3rd grade will be picked up on the Elementary Hall
4th-6th grade will be picked up in the Fellowship Hall
Pick up time for all ages will be 7:30 pm
Mothers, come have a good bowl with your sons on September 24th. This is for 3 years old through the 6th grade. You can register below!
If you are interested in serving in the Kids ministry or have questions about the ministry please fill out the form below.