Reach. Teach. Minister. Multiply.
Reach. Teach. Minister. Multiply.
Church Family & Guests,

In order to adhere to the CDC guidelines related to the recent Covid-19 cases and exposures we have experienced, and to do everything we can to inhibit the spread of the virus, the following difficult but necessary schedule changes have been made.

1. All church-related activities are cancelled for this week (including Celebrate Recovery).
2. Worship services for July 25, 2021 will be on-line only.
3. VBS "Epic Summer Nights" has been canceled. We hope to be able to have some type of VBS experience for the children before the end of the year.
4. Our plan is to begin on-campus activities again with Celebrate Recovery meeting on July 29 and returning to in-person worship services on August 1.

While this is certainly not what we want or had planned to do, we feel is not only prudent but necessary considering the situation. Thank you for your patience and understanding. We apologize for any inconvenience, and please keep those who have been affected in your prayers.



We are honored that you would join us.
Welcome! I am truly honored that you would take the time to visit the SCBC website. Whether you are a part of the SCBC faith family or are our guest today, my hope is that your time spent here would be both insightful and encouraging. Please take a few minutes to browse and discover how you can connect with all of the wonderful ministries and missions opportunities here at SCBC.

Take the time to checkout the current sermon series or even our sermon archives. My prayer is that these resources would not only help you to see the beauty of God's Word, but would be a blessing as you seek to walk in an intimate relationship with Christ. If you are our guest, and do not have a church home, we would love to have you not only on our website, but also our campus.

If you would like more information about SCBC or would like to speak with one of our staff members, you can fill out a connect card on our contact page under the about tab.

- Shane Russell
Lead Pastor
Please join us for a FREE concert on Friday, August 13th at 6 pm. Comedian, Mickey Bell, will be with us as well.

We look forward to this time of musical worship together.
We are back for Kid's Quest beginning August 11 at 6pm. Kids Quest is an exciting approach to studying God's Word through age appropriate interactive Bible stories, activities, and lots of fun! It's based on 2 Timothy 2:22, which tells us to "Flee the evil desires of youth and pursue righteousness, faith, love and peace along with those who call on the Lord out of a pure heart."

COST: $15 per participant with a $45 max per family
Fees cover a T-shirt and supplies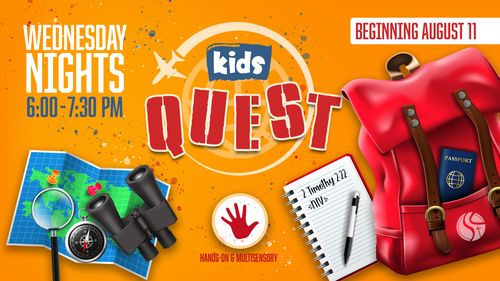 If you missed out on the past week's sermon, you can catch up here.
Sundays at 8 and 11
Wednesdays 6.30-8